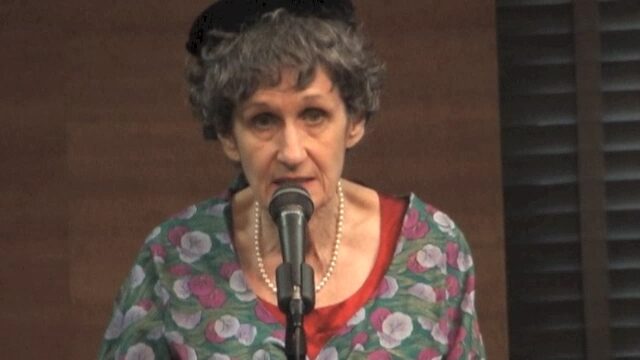 Written & Performed by Prudence Wright Holmes
Ace Detective, Miss Clarissa Marbles interrogates the audience as she tries to get to the bottom of the real-life disappearance of Agatha Christie in 1926. Gunshots ring out, screams are heard in the night and a rollicking good time is had by all in this fun-filled interactive murder mystery.
VOTED ONE OF THE TOP TEN SHOWS IN THE SECRET THEATRE SOLO FESTIVAL 2015
SOLD OUT RUN AT EDINBURGH FRINGE FESTIVAL 2018.
"Holmes commands the proceedings and is convincing as the shrewd amateur sleuth…the show is a good one and the audience obviously enjoys being amateur detectives." The Wee Review Edinburgh, Scotland
"Defend yourself of murder charges and riff with this clever performer! It's a total party!" Frontrowcenter.com
"Prudence Wright Holmes the single performer, is absolutely wonderful and fully embodied the hilarious role, from her abhorrence regarding anything modern or immoral, to her tuneless singing of the national anthem."
Michael Ritchie, fellfromfiction.com
"Prudence Wright Holmes boldly and confidently leads the audience interaction. She's a natural director of the nonsensical."
Jodie McVicar, Broadway Baby
"Prudence Wright Holmes is clearly a skilled comic improviser. The venue was full and the audience appeared to be enjoying it very much."
Peter Cowell,  Westendwilma.com
 Great show! Lots of fun, engaging and good laughs!
Deena Flowers, Producer, Hardly Working Productions
Thoroughly enjoyed this show, despite ending up on stage! Loved the participation from the other audience members who all played along. It takes a confident performer to involve that many randoms in their show. My friends and I definitely recommend it.
Karen Broadly
Really the pleasure was ours!  Your show was so fun – the audience really joined enthusiastically.  I hope we can work together in the future. Kathleen Georgalis, Assistant to Director, Albert Wisner Library, Warwick, NY
This show was so much fun! I was laughing from the minute Miss Marbles, played by Prudence Wright Holmes, opened her mouth. The show was very inventive and everyone there enjoyed all the interaction and ad libs. Prudence is so great at keeping things moving and is full of quips. I would highly recommend it for anyone who enjoys murder mysteries and being part of a great show!
Molly Calhoun
This show is great, great fun. Come ready to play and participate. Miss Marbles KNOWS there's something suspicious going on and YOU are part of it. A great show for families and groups (egg on your friends), full of laughs and surprises as well as a real mystery to be solved.
Margot Avery
Absolutely bonkers fun. A wacky murder mystery like you've never experienced before with a delightful blend of silly names and audience involvement. Great for the young ones, too! Help solve the crime and have a laff!
Michael Peterson
PRUDENCE HOLMES IN AGATHA CHRISTIE IS MISSING WAS EXTRAORDINARY. I'VE NEVER HAD SO MUCH FUN IN THE THEATER. IT WAS WITTY, CLEVER AND EXTREMELY ENTERTAINING. IT'S DEFINITELY A MUST-SEE. I WAS AMAZED AND IMPRESSED HOW SHE WAS ABLE TO RECALL OF THE OF THE NAMES, EVENTS AND WEAVE THE MYSTERY IN SUCH A CLEVER FASHION AND THE AUDIENCE INVOLVEMENT WAS A UNIQUE TOUCH. IT'S A SHOW NOT TO BE MISSED!
Marjorie Johnson
Super fun! Kept the audience engaged, never knowing what comes next. Loved the props & all the zany characters & notes.
Mari Matsumoto
I came with my family, including some young ones and we all loved the show. It was so funny from beginning to end. Ms. Holmes kept us engaged and there was literally never a dull moment. She is a gifted comedienne and clearly someone I want to see more of. Her ad libbing is priceless and the audience was with her all the way. This is a show I highly recommend to anyone who wants to have fun, who likes murder mysteries and has a good sense of humor.
Richard Arenson
Fun show with audience participation, enjoyable entertainment and worth checking out.
Dana Rohulich
VOTED ONE OF THE TOP TEN SHOWS IN THE SECRET THEATRE SOLO FESTIVAL 2015
June 1, 2015, The Secret Theatre Solo  Festival
August 18,2015, Ellington Room, Manhattan Plaza NYC
Oct 5, 2015, East Meadow Library, East Meadow, NY
Jan 17,2016, Ellington Room, Manhattan Plaza ,NYC
Feb 1,2016, Jericho Library, Jericho, NY
March 20, 2016, Mahwah Library, Mahwah, NJ
August 11, 2016, Newbridge on the Charles, Newton, Mass
Sept 10, 2016, Long Beach Library, Long Beach, NY
Sept 17, 2016,  Four Seasons Promenade, Warren, NJ
Sept 22, 2016, Four Seasons Little Egg Harbor, Tuckerton, NJ
October22, 2016, Greenwich Library, Greenwich,CT
October 25,2016, Cornelia St. Cafe, New York, NY
Oct 26,2016, Oliver Wolcott Library, Litchfield, CT
Dec 5, 2016, Ossining Library, Ossining, NY
Jan 14, 2017, Mt Laurel Library, Mt. Laurel, NJ
March 10,2017, Lansdowne Woods, Lansdowne, VA
March 11, 2017, The Shenandoah Lodge, Lake Frederick, VA
July 16, 2017, Landmark on Main, Port Washington, NY
Sept 15, 2017, The Norwalk Library, Norwalk, CT
Sept 16, 2017, The Irvington Library, Irvington, NY
October 6, 2017, Brightwater, Myrtle Beach, SC
October 7, 2017, The Circle of Friends, Myrtle Beach, SC
October 9, 2017, Bishop Gadsden Community, Charleston, SC
January 25,2018, Brookhaven, Lexington, Mass.
February 3,2018, Stagecoach Theatre, Ashburn, VA
April 5, 2018, Meridan Library, Meridan, CT
May 4, 2018, Ft. Hamilton Theatre, Brooklyn, NY
June 6, 2018, Suffern Library, Suffern, NY
June 13, 2018, New City Library, New City, NY
July 11-18, 2018, 59 E. 59th St Theatre, New York, NY
August 1-27, 2018, Edinburgh Fringe Festival, Edinburgh, Scotland
October 16,2018, West Milford Library, West Milford, NY
March 12, 2019, Pelham Womens' Club, Pelham, NY
March 21, 2019, Ashby Ponds Theatre, McLean, VA
March  29, 2019, Albert Wisner Theatre, Warwick, NY
March 31, 3019, Bergenfield Library, Bergenfield, NJ
July 16-24, 2019, 59E59th St. Theatre, New York, NY
August 1-26, 2019, Edinburgh Fringe Festival, Edinburgh, Scotland
September 20, 2019, Louis Bay Library, Hawthorne, NJ
February 16, 2020, Oliver Wolcott Library, Litchfield, CT.
Virtual Performances in 2020 and 2021
N. Merrick Library, Washington Crossings. Ossining Library, Hagaman Library, Elmont Library
"A great show. Definitely worth the 2 hour trip. Prudence kept the audience laughing."
Dr. Philip Schoenberg, President of Ghosts of New York
"Prudence Wright Holmes delighted our residents with her terrific "Agatha Christie is Missing" show. She got the entire audience involved with her quick with and constant ad-libbing."
Jerry Ruderman, Four Seasons Promenade, Warren, NJ
"Prudence's Agatha Christie performance at our community was excellent ! She was very professional and reliable. Our audience of nearly 100 residents enjoyed the show immensely."
Marie Sacco, Event Coordinator,
Four Seasons at Sea Oaks
Little Egg Harbor, NJ