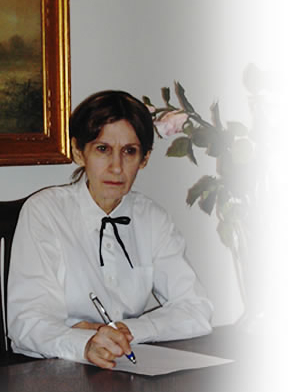 WILLA CATHER
HER LIFE AND LOVES
by Prudence Wright Holmes
Directed by Nora Deveau Rosen
In 1888, Willa Cather astounded her Nebraska neighbors with her brilliant mind and unconventional behavior. She said that "being a girl never damaged her ambition to become Pope or Emperor." She had a successful career in publishing, wrote best-selling novels like My Antonia and Death Comes for the Archbishop, winning a Pulitzer Prize in 1923.
In spite of her success, her romantic life was fraught with conflict. Her work became her refuge and helped her to transcend the problems that beset her. As she often said, "That is happiness, to be dissolved in something complete and great."
Reviews:
"You're in the hands of a master storyteller" – Associated Press
"Prudence Wright Holmes is outstanding" – Backstage.
"Willa Cather: Her Life and Loves by Prudence Wright Holmes was a glorious treatment of the private life of legendary authoress Willa Cather." – Andrew Martin, www.nitelifeexchange.com
"Prudence Wright Holmes in her one-woman show, Willa Cather: Her Life and Loves is a delightfully dramatic, comedic and compelling storyteller as she weaves the personal and intimate story behind the writer Willa Cather. Prudence explores and reinvents this persona in such a witty and charming manner, dramatizing the trials and tribulations of growing up in a world that did not welcome non-conventional ways to exploring her evolution into a successful writer with a nontraditional love life. With a storytelling style that is everything from brassy and confrontational to vulnerable and endearing she keeps her audience spell bound and laughing." – Susan Luddeke, Professor of Fine Arts, East Carolina University
" The show is truly wonderful. It is an excellent display of you craft as an actor to be able to create and so easily and believably distinguish so many different characters. It was an excellent model for students who do similar work.
Your production added something deeper and richer to our understanding of Cather's prominence as an American author and woman of letters.
I hope you will return soon with another production." – Ansley Valentine, Director of Theatre
Northern Michigan University, Marquette, Michigan
"Call Me William is a powerful trip back in time which, among other things, reexamines gender roles and the complex life lived by one of American's greatest writers.  Through a studied portrayal of Cather and her contemporaries, Ms. Holmes gives voice to this complicated woman who's issues with identity still ring true with today's audiences."
Edie Norlin, Director, Theatre Department, Ohio State University
CONTACT
E-mail: [email protected]
Cell: 917-723-0164
Past Performances:
June 13, 2019, Dixon Place, New York, NY
June 5,2019, Fox Hill Village, Westwood, Mass.
October 14, 2018, Princeton Library, Princeton, NJ
February 18, 2017, Forest Hills Library, Forest Hills, NY
Oct. 6, 2016, Ohio State University, Newark, Ohio
April 21, 2016, The Ossining Library, Ossining, NY
March 29, 2016, Actors Equity, New York, NY
February 21, 2016, The New York Society Library, New York, NY
Jan 15, 2016, APAP, NY Hilton, NY
Nov 28, 2015, Mt. Laurel Library, Mt. Laurel, NJ
Nov 21, 2015, Kearny Library, Kearny, NJ
Oct 10, 2015, University of Northern Michigan, Marquette, Michigan
June 21, 2015, Pleasantville Library, Pleasantville, NY
April 19, 2015, Alden Theatre, McLean, VA
March 21, 2015, The Bloomingdale Library, New York City
February 5, 2015 VI Living Theatre, Palo Alto, CA
September 2014, Arts Midwest Conference, Minneapolis, MN
May 24, 2014, New City Library, New City, NY
November 12, 2013, LIU Post Steinberg Museum, Brookville, NY
October 6, 2013, Suite, New York City
September 22, 2013, Franklin Lakes Library, Franklin Lakes, NJ
July 30, 2013, Mohonk Mountain House, New Paltz, NY
June 24, 2013, Tuckahoe Library, Tuckahoe, NY
May 14, 2013, Rye Library, Rye, NY
May 5, 2013, Squirrel Hill Library, Pittsburgh, PA
March 26, 2013, East Carolina University, Greenville, NC
March 15, 2013, The Lesbian, Gay, Bisexual & Transgender Community Center, New York
February 1, 2013, The Elmont Library,  Elmont, New York
January 26, 2013, Creating Change, the National Gay and Lesbian Task Force Conference, Atlanta GA
December 2012, Montauk Library, Montauk, New York
October 2012, Somers Library,  Somers, New York
July 2012, Mohonk Mountain House,  New Paltz, New York
May 2012, Long Beach Library,  Long Beach,New York
March 2012, East Meadow Library, East Meadow, New York
June, 2011, Battery Park City Library, New York City
June 2011, St. Agnes Library, New York City
June 2011, St. George Library, Staten Island,  New York
February 2011, The Jefferson Market Library, New York City
December 2010, The Twelfth Night Club, New York
November 2010, The Bloomingdale Library, New York City
October 2010, Urban Stages Theater, New York City
July 21-30 2010, Cherry Lane Theater, New York City