Mrs. Lincoln's Dressmaker
Mrs. Lincoln's Dressmaker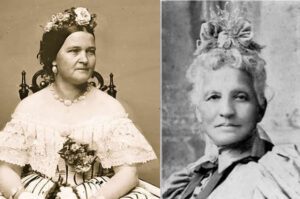 is based on the true story of Mary Todd Lincoln and her best friend, her black dressmaker, Elizabeth Keckly. Hoping to win over her critics who accuse her of being a Southern sympathizer, Mary Lincoln hires Elizabeth Keckly to design her dresses when she first arrives in Washington , DC . Lizzy puts up with Mary's mercurial moods and her tendency to overspend.
They bond when they both lose their sons within a few months of each other. They seek comfort in spiritualists much to the chagrin of Abraham Lincoln. When Lincoln is shot, Mary is $70,000 in debt. She persuades Lizzy to leave her business in Washington , DC and accompany her to New York where they try to sell Mary's worn dresses. The plan fails and later Lizzy convinces Mary to send the dresses on a tour. This venture also fails and Mary is presented with an $800 bill for which she blames Lizzy. Meanwhile, after spending so much time in New York , Lizzy loses her business. She asks Mary to pay her for her time and efforts, but Mary is destitute.
In desperation, Lizzy writes a tell-all book about her days at the White House with the Lincolns . Mary is furious and ends their friendship. Soon afterwards, Mary tries to commit suicide and her son has her committed to a mental hospital. In the final scene, Lizzy visits Mary in the asylum, hoping to make amends and help her win her freedom. She soon realizes that Mary is in fact insane. In the end, they come together once more as Lizzy comforts Mary and promises to care for her in spite of all the conflict that has gone on between them.